Lehenga or lehnga or Ghagra or Pavadai in Tamil or Langa in Telugu and Kannada [1] is a form of skirt which is long, embroidered and pleated. It is worn as the bottom portion of a Gagra choli or Langa Voni. It is secured at the waist and leaves the lower back and midriff bare.[2] In North India a lot of embroidery work is done on a lehenga and is popular during the festivals and weddings.
The ancient version of skirt or Ghagri evolved from Bhairnivasani, which in turn evolved from the Antariya when stitched on one side became tabular and was worn gathered together at the waist, and held by a girdle. This was one of the earliest forms of a clumsily stitched skirt. It was worn using drawstring or nada.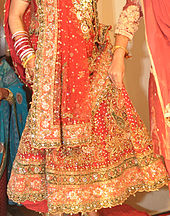 Variations
Edit
The ghagri was a narrow skirt six feet long the same length as original antariya. This style can still be seen worn by Jain nuns in India.
In Andhra Pradesh it is called as Langa and part of the dress Langa Voni.
References
Edit
1.Jump up ^ Fashions from India - Tom Tierney 2.Jump up ^ Social Science a Textbook in History for Class IX as per New Syllabus - FK Publications